Tunkhannock Borough History
In 1771, when Zebulon Marcy traveled here from Wilkes-Barre, he saw a great potential for farming on the flood plains where Tunkhannock and Bowman creeks flow into the Susquehanna River. He returned a year later to plant crops near the mouth of Tunkhannock Creek. The settlement that sprouted there was called Marcy. The surrounding township was eventually named Putnam for Connecticut Revolutionary War General Israel Putnam. In 1786, the village was renamed Tunkhannock, derived from the Iroquois term for "small river. "
By 1830, Tunkhannock was a bustling town with several stores, a post office, hotels, churches, mechanics' shops and numerous residences. It was incorporated as a borough in 1841 and became the county seat when Wyoming County was formed from a portion of Luzerne County in 1842. The first official census of Tunkhannock was taken in 1850 and recorded 561 residents.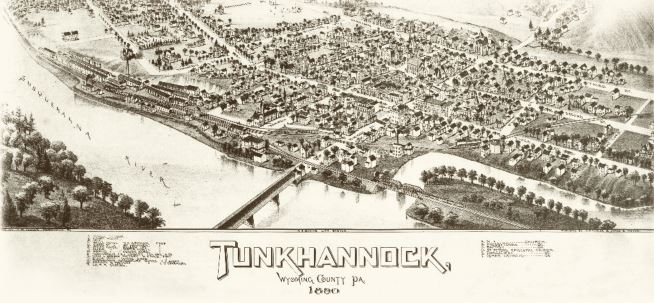 Early settlers were involved in lumbering, shad fishing, and farming, and businesses sprouted up to serve both industrial and agricultural needs. Construction of a canal along the Susquehanna River was begun in 1838 and completed in 1856, allowing for the shipment of lumber and other commodities south to Pittston and Wilkes-Barre and north to New York State. The canal proved too costly to maintain and was closed in 1872. Its demise was hastened by the construction of the first rail line through Tunkhannock in 1869.
The railroad literally put the lumber and tanning industries on the fast track, and Tunkhannock flourished. Much of the downtown business district was constructed in the last three decades of the 19th century. Several blocks of downtown were in fact being rebuilt from disastrous fires, the most memorable in 1870. So much of its Victorian charm remains from that era that public officials were motivated to establish the Tunkhannock Historic District, which was added to the National Register of Historic Places in 2005. Tunkhannock evolved and its economy diversified. As the forests were logged off in the early 20th century, agricultural production reigned for many years as the county's primary industry. In 1966, Procter & Gamble opened a large plant in nearby Washington Township, stimulating the economy and providing new jobs and an influx of new residents.
The borough's population grew to 2,297 people in 1960 and began to decline slowly after 1990. Since 2010, the natural gas industry has had a similar economic impact on the borough. In 2014, the population was estimated at 2,074.